Pre-Law Advisor – Michelle Saney
Click here to schedule an appointment electronically with Michell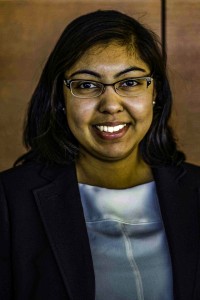 e (UW login required) or email msaney@wisc.edu for additional availability. Michelle will meet with FRESHMEN AND SOPHOMORES ONLY.
Michelle is a second year law student at UW-Madison. She is a Managing Articles Editor of the Wisconsin Journal of Law, Gender and Society and is also the President of the Asian Law Students Association (ALSA). She earned her B.A. in Government (Political Science) at St. John's University in New York where she was also a member of the Mock Trial team. Prior to coming to law school, Michelle worked as a paralegal in a New York City law firm for seven years.
Michelle's area of interest is business law. In her first year as a law student, she worked as a Student Attorney at the UW Law & Entrepreneurship Clinic where she assisted many startup's with entity formation and even trademark and copyright analysis.
Law can be highly challenging, but in the same breath, can provide incredibly meaningful rewards, too. Come meet Michelle and she will help you navigate questions you have about this exciting field!
Pre-Law Advisor – James Meadows, J.D.
Schedule an appointment electronically with James by clicking here. You can also reach out to him at jcmeadows@wisc.edu.
James earned his B.A. at the University of Chicago and his J.D. at the University of Wisconsin Law School. He is currently pursuing a Ph.D. in education policy at the University of Wisconsin School of Education. While in law school, James was a member of the Black Law Student Association and completed an externship with the Southern Poverty Law Center. Before attending law school, James was an undergraduate adviser at the University of Washington. He also taught American history to 7th and 11th graders.